Finlay Bertram with Terry Chinn


Finlay is a young person who is heavily involved in youth activism, he is a member of the Welsh Youth Parliament and Newport Youth Council.
Terry has worked with orchestras, puppetry, singers and visual Arts in commercial and therapeutic settings. He has developed creative spaces in under-used buildings and regularly teaches inclusive sessions at all levels.
email: pontylive@gmail.com
instagram: @chinnterry
twitter: @Mountainashes
image: Pontypridd reflections. lockdown 2020 - Terry Chinn

Rabab Ghazoul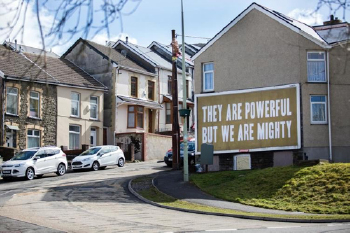 I was born in Mosul, Iraq. I've lived and worked in Cardiff, in Wales, since 1993. I'm a visual artist interested in exploring our negotiations of the political.
I work with different media and different processes, often with a slant on the performative or the conversational. I draw heavily on text - found, written, sourced or invited. I'm interested in the nuance of private and public affiliation; the relationship of wider (political) frameworks upon the personal, and the daily.
My work comes about in different ways: appearing as video, installation, text, performance, or public realm intervention and encounter. Sometimes my artworks are conversations, lasting a day or a year. There is always some element of engagement, an invitation to participate.
I see my practice as an expanded realm of interaction, something that happens both within and beyond the gallery or studio. The 'public' realm, the realm of people, is my primary context. Whether organising a march, a choir, a gathering or a debate, these activities are often questions to myself around what, in practice and in aspiration, words such as 'community', 'democracy', or 'belonging' might mean.
In 2016 I set up Gentle/Radical, a Cardiff-based arts organisation for contemporary art and social change.
web: http://rababghazoul.com
instagram: @gentleradical
facebook: @gentleradical
twitter: @gentle_hq
Image credit: Dan Green
Amy Pennington


Amy makes work that connects human relationships & socio-political issues using everyday materials & accessible processes to transgress the boundaries of high & low art, often using drawing, DIY film & improvised performance. In their work, familiarity & accessibility are political strategies to spark a conversation, which soon reaches more complex terrain. The foundation of their practice is people: working collaboratively, as participants or co-creators, often in everyday spaces including hairdressers, care homes, parks, a factory. Working with institutions as well as self-organised groups and in the public realm. They have worked with Open Barbers, The Outside Project, LGSMigrants, LADA, PEER, Battersea Art Centre, Heart Of Glass and Left Coast.
web: http://amypennington.co.uk
instagram: @amy_pennington_
image: Amy Pennington

Owain McGilvary


Owain Train McGilvary is an artist based between Glasgow and Anglesey working in moving image, collage and drawing. He is interested in the way language derived from popular culture, gossip, queer and feminist thinking can be used as a strategy to question modes of artistic production through reinterpretation, reference and parody.
web: https://owaintrainmcgilvary.tumblr.com
instagram: @owainmcgilvary
image: Owain McGilvary

Amy Treharne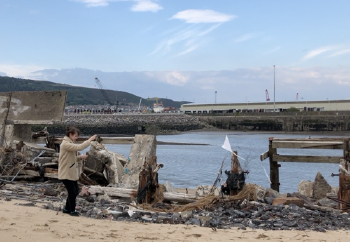 Swansea based artist Amy Treharne's often land based work deals with issues around the environment, and sustainability, as well as education strategies. Amy is an associate artist with Glynn Vivian Art Gallery, Swansea.
instagram: @amytreharne
twitter @amy_treharne
image: Amy Treharne